Technical characteristics
Brand

Мир ремней

Country of manufacture

Belarus

Type

Toothed

Width

- "

Material

Rubber

Color

In assortment

GTIN

-
Description
Want to buy a belt for a blender? Book in "World of Belts"! In the catalog of our online store you can find belts for any household and industrial appliances! We have a range of products production Europe and the CIS countries. We guarantee high quality products, all belts are certified. With our products you will be able to equip any equipment. We work in Minsk, Republic of Belarus, but also willing to put your products in all regions of Russia, Ukraine, Kazakhstan, Armenia and other CIS countries. Call us now, we will arrange to send any parties belts in your city transport companies, fast and safe! Our staff will be able to pick up an identical belt for your machine or an analogue offer, ideal size and shape, which is not inferior to its original factory settings.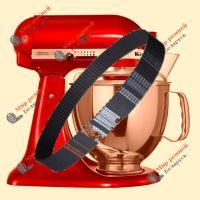 Belts for blenders - device and types
Blender - a special device for the mechanical treatment of products, namely mixing the various ingredients. The first electric blenders for mixing milkshakes appeared in the United States 100 years ago. Since the evolution of devices has led to the emergence of many variations of this apparatus. In everyday life is most often used by small blenders with direct drive - with the capacity or submersible. They do not have a belt drive, the electric motor rotates the working tool directly. But there are also large stationary household blenders that are available such brands as KicthenAid or Mulinex. They allow you to prepare milkshakes and beverages at home in a professional manner. These instruments are used belts, which at times are broken and become useless.
Our company is ready to provide the drive belt for any blender. Most often in these electric appliances meet the following types of belts:
Toothed belts;
V - belts;
Ribbed belts (crevice).
Selection of a good belt can be quite non - trivial task. But with the help of experts of firm "World of Belts" you will be able to buy any such spare!
Buy strap for blender
Drive belts are made from elastic materials, the most common are of industrial rubber products. Recently, more and more businesses are switching to more durable polyurethane (although it is more expensive). Modern toothed belt has a complex structure. Usually it is situated inside the core, a cord, which gives rigidity and durability under loads along the center line. Cords made of metal (wire), Kevlar and other super strong materials.
Contact the seller
Strap blender